About Us
"

Every time I meet with an existing client, or perform a new demonstration, I get the same satisfying fulfillment again and again as I watch how our products perform. My goal for client satisfaction is not limited to supplying the correct chemistry for my customers' cleaning needs. I also aim to instill trust, confidence and vigor within every customer by embodying my faith to press onward towards a better future.
Truck Soap, a division of Your Choice Specialties, is owned and operated by founder, Matt Martin. Truck Soap has provided truck cleaning services and training to over 900 truck owners and fleets since 1997. Every truck cleaning product available for purchase at Truck Soap has been field-tested and approved by Matt, and is guaranteed to work.
Truck Soap's philosophy is based on furnishing high-grade commercial truck cleaning products and training truck owners and operators on how to use them. Each client is given direct attention with an on-site consultation that allows Matt to evaluate and develop a unique formula of truck cleaning products to meet specific needs.
---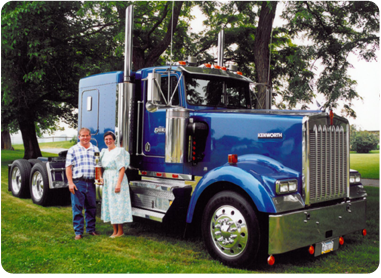 Who is Matt Martin?
Trucks have always been a large part of Matt's life. At the age of 18, Matt was on the road driving and keeping his own truck sparkling clean. Having heard stories about commercial truck washes destroying paint and burning polished aluminum, Matt decided to start his own mobile truck cleaning service using products from Tetra-Chem, which he had used for years to clean his own rig.
Matt continued driving and cleaning his truck, but his hobby developed into a small business as more and more truckers bought products from him. Along with his mobile truck cleaning service, Matt also began the Your Choice "Buffing Program," which offered high speed aluminum buffing.
Today, Matt does hands-on washing and polishing to test products for his full-service truck cleaning company, Truck Soap. His primary focus is building relationships with new and existing clients, and in ensuring Truck Soap always has the best truck cleaning products and truck cleaning services the market has to offer.